Life at UWC
Life at UWC differs among the 18 colleges. The activities that are conducted on one campus may differ greatly from the activities conducted on another campus. The same can be said for the types of friendships that are built throughout the two years, the types of discussions that engage the students, the types of projects that are pursued, and so forth.
The basic aspects of living at a UWC common to all campuses are the following:
Accommodation
All students live in dormitory rooms which are shared with two to three other UWC students. Each room consists of students of diverse nationalities, cultural backgrounds and academic years (i.e. first years and second years). Each student is provided with a linen and towel set. The different rooms are united by a common living area that includes both a kitchen and a study space. Each residential floor or block is headed by a house parent/house mentor whose role is to ensure the wellbeing of the students. These house parents/house mentors can be sought for support on residential matters.
Food and Health
Breakfast, lunch, dinner and a snack are provided by the school's canteen every day of the week. At each of these mealtimes, a diverse variety of food is on offer, intended to cater for all dietary requirements and provide a healthy, balanced diet. Students may also choose to cook in the common kitchens of their residential blocks, where standard utensils and kitchenware are provided, but ingredients must be provided by students.
For physical and mental health emergencies, each campus is equipped with a medical care centre and staffed with nurses and on-call psychologists. When needed, hospital visits procedures and medical insurances are provided.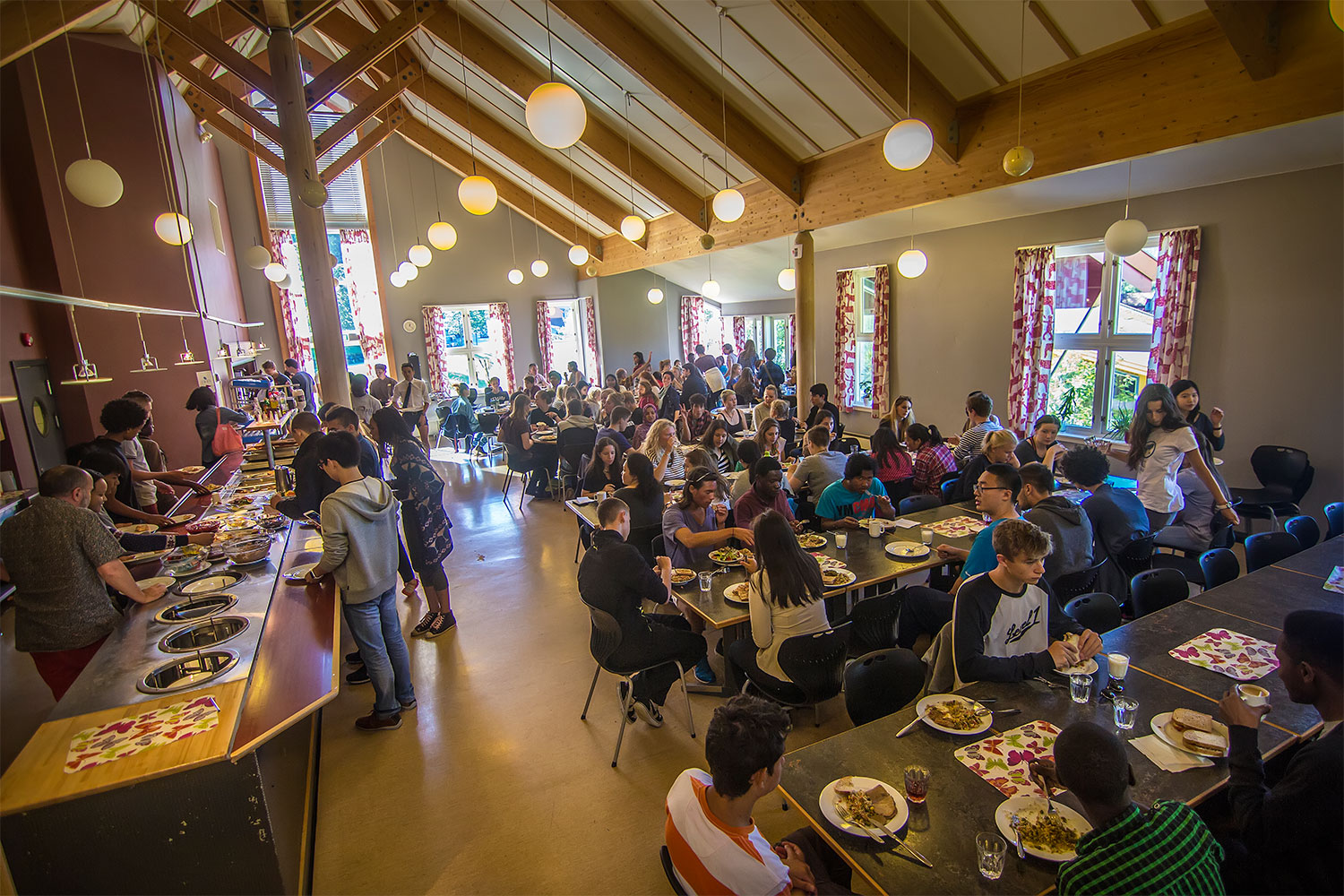 Academics
Not only is the IB Diploma Programme a rigorous program, but it is also an independent program, that requires students to select their subjects and work independently to ensure their own success during this two-year journey. Students are of course not alone and receive the guidance and support of their teachers, as well as academic tutors who are responsible for overseeing their students' academic progress. End of term progress report cards is issued to the students, to their parents and their National Committee.
Free-Time and Breaks
Students are expected to be responsible for the management of their time in a manner that satisfies their academic requirements and allows for free time. Students will need pocket money for buying personal supplies such as shampoo, toothpaste etc., as well as for embarking on any off-campus activity, such as exploring the village, shopping or going out to eat. In all cases, students are required to return to campus every day at a certain time to check-in with their house parents. Parental consent and confirmation are always required by the school for off-campus overnight leaves or long week/weekend trips.
During the school holidays (winter break and summer breaks), the campuses always close. As a result, the students may choose to return home, stay with a host family, or embark on a personal trip. Staying with a host family is a procedure that is organised by the school, whereby the information of the host family is known to the administration. In some cases, families choose to host more than one student. This option undeniably offers the student a deeper insight into the culture of the community/village/country.
Universities
With discussing life at UWC, it is also important to introduce life after UWC. Each campus holds a college counselling program that helps direct students towards a variety of university options. The IB Diploma Program globally recognised, and equivalencies exist for the different systems, including the Lebanese Baccalaureate system. UWC students are generally highly sought after by universities, and many university scholarships are readily available for UWC graduates, the largest of which is the Davis UWC Scholars Program.